Mark Janssen Illustrator website
Mark Janssen studied at the Maastricht Academy of Fine Arts. After graduating, he quickly became internationally famous as a book illustrator for children and adults. Web design agency Stoere Binken Design designs the new Mark Janssen website. He has given us a challenge ánd complete freedom. We are his biggest fans, so the new bespoke website must do his work justice.
When illustrator Mark Janssen gives you carte blanche to realize his personal challenge, it gets exciting. How can you create a website that does its work justice? A website that conveys the feeling of his drawings and makes the viewer happy?
Our solution is a catalog website, a virtual bookcase with secret drawers. A colorful navigation of illustrative fonts entices you to discover Mark's work, to browse the magical world in his head. Large images show the power of detail and love in his drawings. Mark's work gives us the feeling of being a child again …
Illustrations for young and old
From his atelier in Valkenburg a/d Geul, Mark makes illustrations for both children and adults. From his first children's book 'My friend the sheik of Ulf Stark' to the present day, he has worked on more than 175 children's and picture books for almost all major Dutch and Belgian publishers. Many of his books have already found their way abroad and have been translated into more than 10 languages. In the meantime, the first books for beginning readers also appeared, for which he supplied both the text and the drawings. His Instagram account is a gem and well worth following.
All books
Quality, a unique style and clear steps
Quality, a unique style and the guts to take clear steps forward. Not trend-sensitive, but building a figuratively sturdy house that will remain standing. That applies to myself as an illustrator and therefore also to my choice to have Stoere Binken Design build my website. You recognize each other in that!
Mark Janssen

-


Illustrator
The power of great typography
Mark loves the fonts René Verkaart (aka Characters Font Foundry) designs and wanted to have them incorporated into his new website. That's something you don't have to tell us twice! We used typography as an illustration, playful, exciting and quirky. Fits perfectly to Mark, we think.
The homepage, also the main navigation, is completely designed with fonts by René. We used the CFF Jekyll Pro as the brand font, and we enhanced it especially for Mark. This font has many playful alternative characters, making it a perfect match for Mark's illustrations.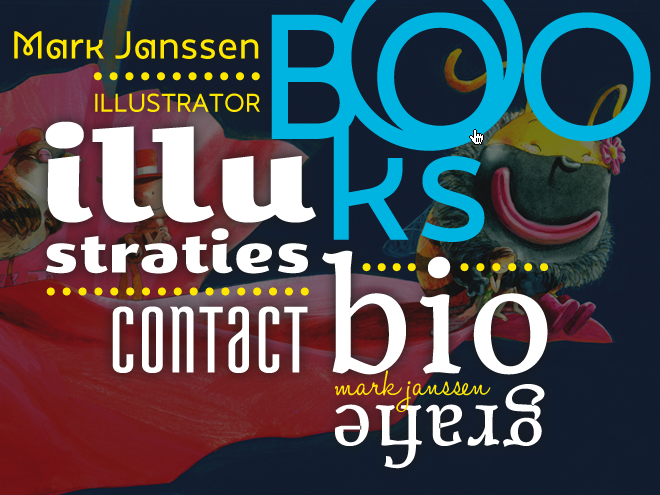 Typography
Book 'Kodo, the way of the bow'
The book "Kodo, the way of the bow" is the joint project of illustrator Mark Janssen and author Bert Kouwenberg. This book is full of fascinating and atmospheric prints. In our opinion, it's one of the most beautiful books by Mark Janssen. Stoere Binken Design designed the book, and Clavis Publishers finalized it in-house.
Books
In honor of Bert Kouwenberg
Bert, a storyteller in heart and soul, unfortunately, passed away too early on May 2, 2015. We are honored and moved that we were allowed to design this book. The end result exceeds our wildest expectations. As a designer, you dream of such a book. You can order your copy of the book on the Clavis Publishers website.
The book has an impressive size of 30 x 37 cm and carries 112 pages. Wow. The perfect carrier for the fantastic drawings by illustrator Mark Janssen. We are his fans of the first hour, and we think this is his masterpiece.
Order book
Do you also want an enchanting WordPress website?
Stoere Binken Design specializes in surprising custom WordPress websites. The responsive website that we design must make your company successful. Make an appointment to discuss the possibilities together.