CMC Marketing branding and website
CMC Marketing helps customers to generate more traffic and ROI from the marketing budget. For this, they have developed their CMC Positioning concept.
Stoere Binken Design designs a new brand identity, storytelling and custom website for director Tanja Clercx, the next step in the evolution of CMC Marketing. CMC wanted a striking and cool web design that leaves the competition far behind. We are more than happy to support this ambition.
Web design from Limburg: unique and authentic
An organization is only successful if it is authentic, distinctive, and sometimes a bit stubborn. CMC Marketing creates brand reputations for its customers with professional and carefully planned marketing and storytelling.
The website that Stoere Binken Design made for CMC Marketing visualizes their business case. From the clear layout with a focus on the content, the energetic color, and vibrant animations, everything leaves a lasting impression. CMC Marketing customers respond very positively to this beautiful website. Mission accomplished. A project that we as a web design agency from Maastricht are proud of.
Webdesign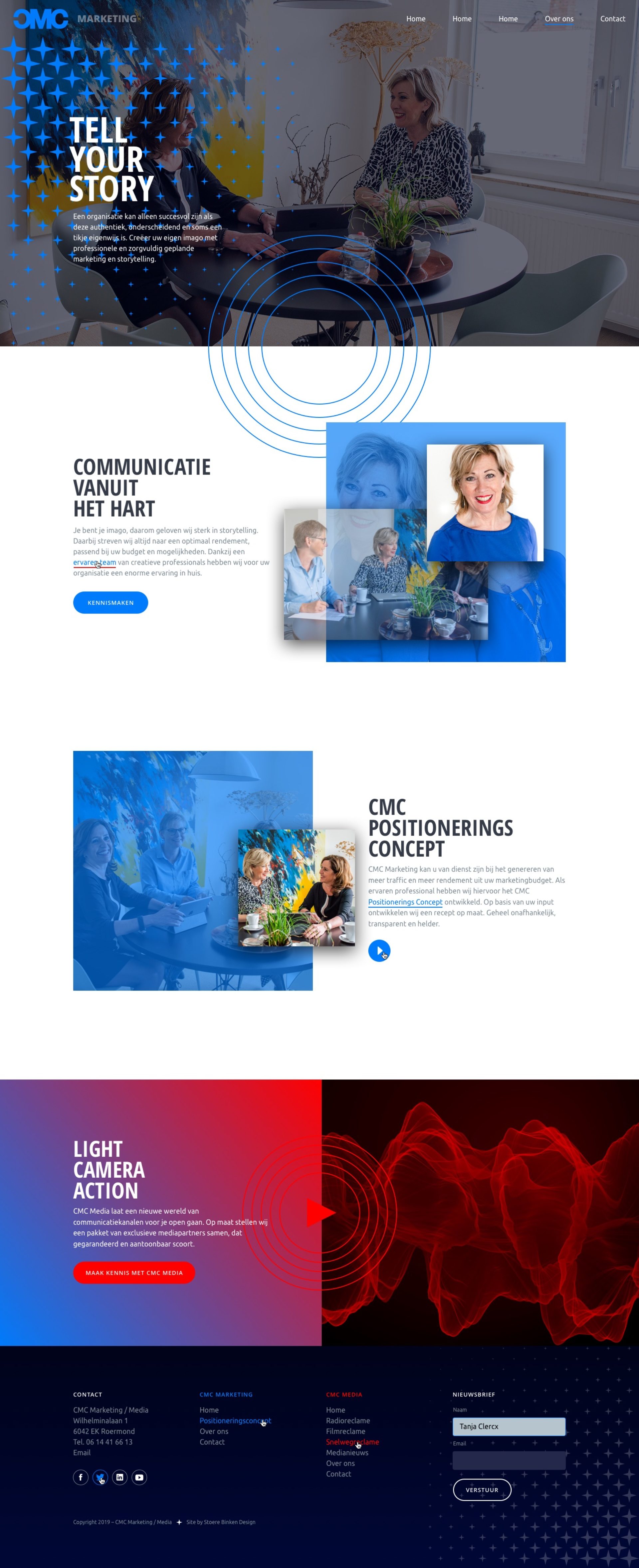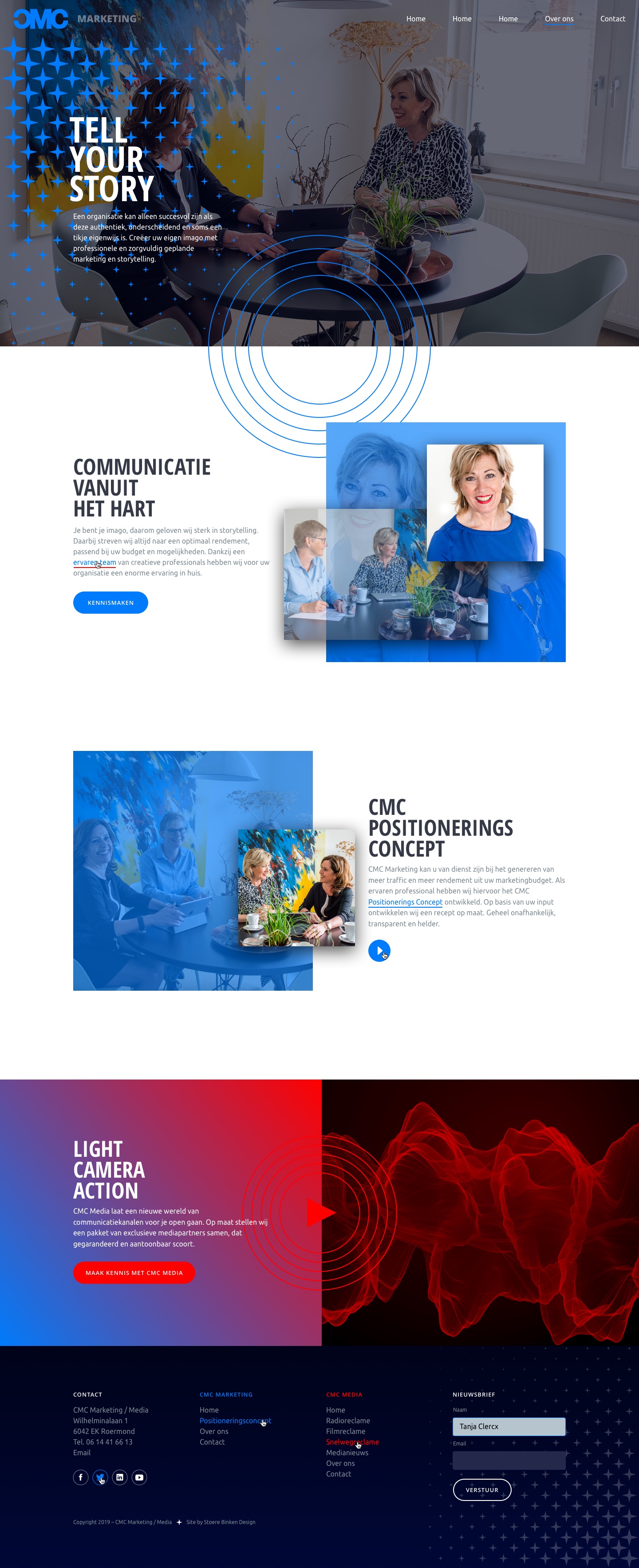 Communication from the heart
Storytelling is an important part of our work and life. In order to connect to people, you have to reach out and address them on an emotional level.
CMC works with closely selected network partners. From designers and web developers such as Stoere Binken Design to audio and video producers, photographers, and printers. Partners with experience and passion. They are all ready to sharpen their corporate communication together with CMC Marketing.
The collaboration was extremely pleasant and professional
The collaboration with Stoere Binken for our new website was extremely pleasant and professional. René is an expert in translating concepts into a catchy and distinctive design!
Tanja Clercx

-


Director CMC Marketing
CMC Positioning concept: Captivating and indelible
CMC Marketing is strong in positioning organizations like no other. With the results of their tailor-made workshops, they position organizations in a unique way. Distinctive and recognizable. They help generate more traffic to get more profit from marketing budgets.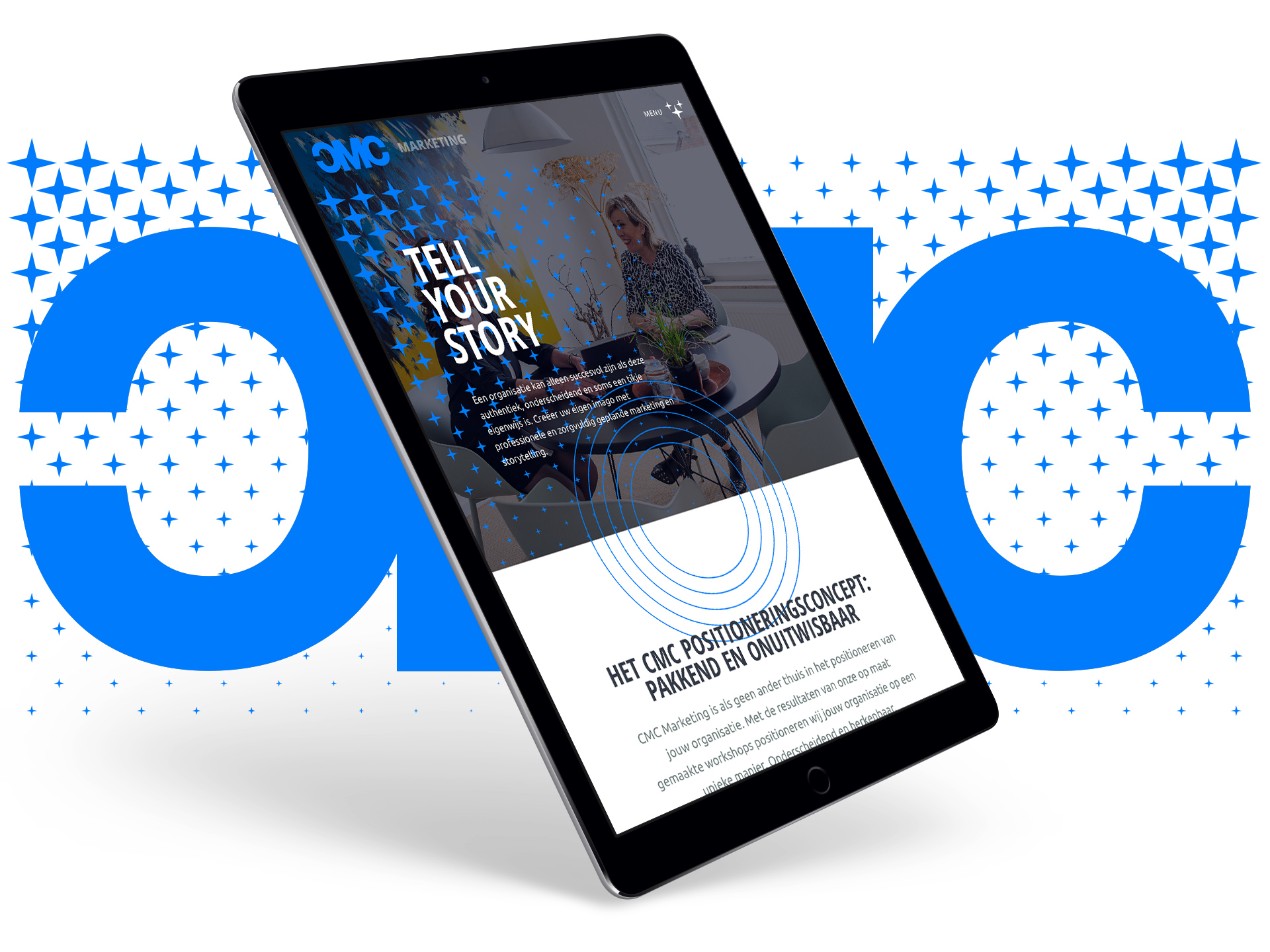 CMC Media: Play your story
CMC Media is Tanja Clercx's second branch of sport. A perfect match with CMC Marketing. CMC Media provides effective and affordable radio advertising, cinema advertising, and highway advertising for companies from the Euregion.
With their approach, they want to open a new world of communication channels and make companies successful. They put together a tailor-made package of exclusive media partners, which are guaranteed and demonstrably scored.
Meet CMC Media.
Do you also want a catchy and indelible branding?
Would you like to have a website made by a professional web design agency from Maastricht? Stoere Binken Design specializes in visual storytelling and web design. The strategic positioning we develop should contribute to your success.