De Regiebehandelaars branding and website
De Regiebehandelaars is a network- and selection company for regiebehandelaars (directing practitioners), led by two experienced GZ psychologists from the Randstad. They want to change healthcare by introducing more specialism, clarity, and efficiency. Are you looking for the best healthcare personnel, or do you want to work as a self-employed person in healthcare? De Regiebehandelaars help with this. Stoere Binken Design designs its brand identity and website.
Challenge
The challenge of both De Regiebehandelaars founders, Bjarne Timonen and Jan-Hein Backus, was loud and clear: We are not your average psychologists and we want a branding and website with a nice business look, even a bit raw style. After a long search, we came to your website and it appealed to us. Could we have a call about the possible options?
How do you position a start-up in the healthcare sector that wants to stand out in this already saturated market? How do you develop a catchy storytelling that attracts the right people? And how do you create a Unique Selling Point that is convincing? This is a challenge that we are happy to take on at Stoere Binken Design.
Solution
After thorough desk research, our solution is distinctive, striking, and bad-ass! We have designed a fresh corporate identity that is visibly different from the usual style for secondment and employment agencies. No primary colors, frivolous icons, cool photos or mascots, but a surprising color palette. Gold stands for quality and is elegant and powerful in combination with black and white. In addition, a modern logo with a raw font. The two bars visualize the two founders of De Regiebehandelaars.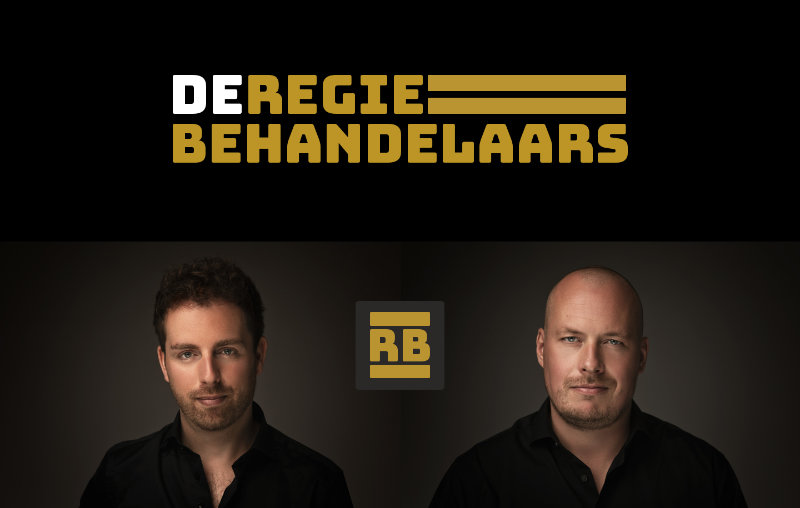 The intensive yet warm portrait photos by Lara Bommartini Photography round it off. They harmonize perfectly with the chosen brand design color palette.
Meer huisstijlen
Become the director of your own career
The slogan we devised "Become the director of your own career" captures the USP in one sentence. It is a nod to the profession of "directing practitioner" and the career in the care sector that De Regiebehandelaars realizes for their clients. Matchmaking, screening, supervision, coaching, and online treatments are the expertise they offer to make their clients successful.
They are also an official partner of Trees For All and plant 100 trees every year. If you work together with De Regiebehandelaars, you indirectly give something back to society.
René really CARES about your website and your branding
The collaboration with René was very pleasant. He really CARES about your website and your branding. This relieves and creates confidence. An absolute must if you are looking for a web designer with just that little bit of extra attention for your beloved product.
Bjarne Timonen & Jan-Hein Backus

-


Owners
"Recruitment and selection by regiebehandelaars. The better choice"
De Regiebehandelaars is led by two independent GZ psychologists, Jan-Hein Backus and Bjarne Timonen. With our many years of experience in mental health care, they help direct practitioners to find a suitable job or assignment, in paid employment or as a self-employed person. We negotiate, provide guidance in the form of supervision and/or coaching in directing treatment and entrepreneurship.
Web design for an ambitious startup
The De Regiebehandelaars website not only has a warm appearance, but also an attitude. Human contact is the specialty of the founders Timonen and Backus. The photos fit in with this, which are straightforward and confrontational in a positive sense. The direct eye contact with a confident look radiates confidence and pride.
Although they are a startup, both founders have extensive experience in forensic care, addiction care, and regular mental health care. Stoere Binken Design designs and programs a website with clear language and distinctive storytelling. Webdesign Limburg meets the raw Randstad.
More websites